New Sources and Uses Section on Deal Page
When you open your Deal page, Blooma has added a table for Sources and Uses which will automatically collect and display data like Senior Debt and Purchase Price. You can edit and update your Sources and Uses table using the "Edit" button located next to the table.

New Deal Narrative Section
What used to be the "Add Description" section has been improved! Now you can create an entire narrative for your Deal. With the addition of subsections, you can keep detailed notes on different aspects of your subject property and as well as your entire Deal. Simply click "Add Deal Narrative" and get started creating an organized narrative that can be exported along with your Deal data. Choose from the following subsections to save your narrative data within:
Transaction Overview

Property Location

Property Management

Property Performance

Market

Strengths

Risks and Mitigants

Sponsor Guarantor

Third Parties

Underwriting Notes

Additional Information
Order an Appraisal From Within the Blooma Platform
To order an appraisal, navigate to the Deal that you want to order an appraisal for. Navigate to the Property Alternative Valuations section and see the below screen. You can click the link and it will take you to MountainSeed's website where you can order a valuation for your property.
Create Multiple Alternative Income Valuations
Now in Blooma you can order a valuation for your Deal. This valuation will be saved within the Property Alternative Valuations section. In addition, you can now create and save multiple valuations within this section as well. Simply navigate to the Deal Page and click "Property Alternative Valuations" where you will be prompted to edit or add a new Alternative Valuation.
View Tooltips for GreenStreet Market Data
If a property has GreenStreet data available, you can now hover over the information icon next to each key metric to view some helpful text explaining each metric.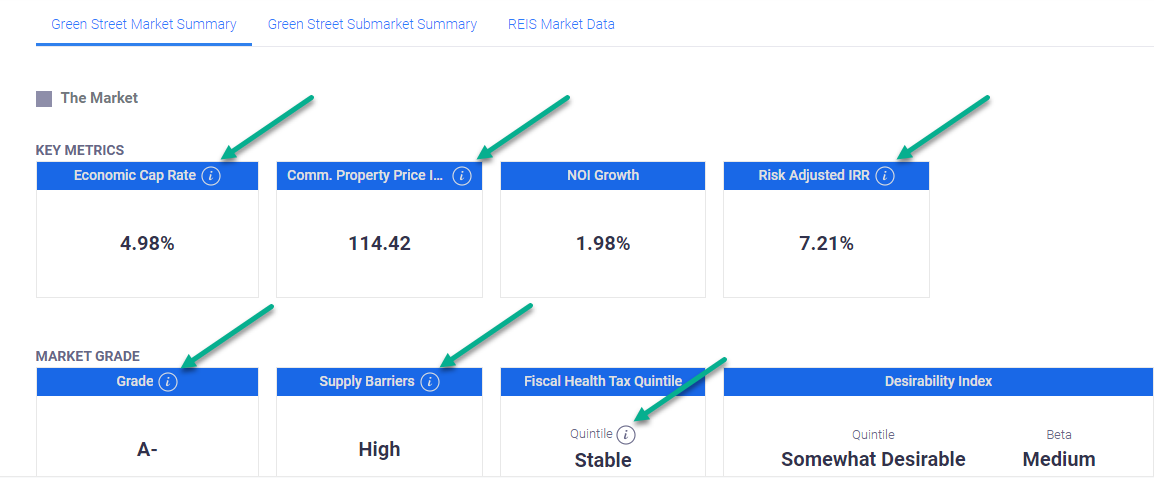 New Data Source for Sales Comparables From Real Capital Analytics (RCA/MSCI)
Go to your Sales Comparables modal and check out the comps from our new data source! You can filter your list of comparables to show only comparables from certain data sources, or sort by a number of metrics.
New Sort Option for Rent Comparables
Now you can sort your rent comps, as well as your sales comps, by asking rent. Sorting commercial property comparables with this function will arrange them by asking rent in terms of $ per SF.
Updates to Bulk Deal Import and Update Sections
Debt Service data now saving correctly for Bulk Imports and Updates

"Loan Type" removed as a required field for Bulk Deal Updates

Picklist values re-aligned for Bulk Deal Import and Update

Addresses now validating correctly for Bulk Deal Imports

Deal owner can now be specified when importing Deals in bulk

Setting Payment Type to P&L when importing Deals in bulk now saving correctly

Loan type limited to Blooma loan types when importing Deals

Origination Date saving correctly for Bulk Deal Imports and Updates

Risk Rating saving correctly for Bulk Deal Imports and Updates

"Extension Term" added as a new field for Bulk Deal Imports and Updates
Minor Bug Fixes
Comparison view in portfolio stress test now opening to correct view

Address required when adding a collateral to a component (marked with red * )

"Compare" section moved up in the view complete stress test section

Portfolio filters now arranged correctly within the confines of the filter box

No longer able to edit vacancy manually when setting source to Rent Roll when creating a valuation

Unit mix square footage can now be set to null for Hotel Deals

Cells with data that exceeds the length of a cell is now visible when you hover over the cell

Calculated Debt Service for Interest Only loans now being calculated correctly using Loan Balance